High Range Drink Driving
Introduction
Drink driving is one of the most common offences dealt within the Local Courts of NSW. There is legislation in place that makes it an offence to drive under the influence of a certain blood alcohol concentration of alcohol. If you are found guilty of such an offence, you could be liable for fines, imprisonment, disqualification of your license and/or participation in a habitual offenders scheme. You may also be left with a criminal conviction which may affect many other aspects of your life including overseas travel plan and employment. If you are charged with a high range drink driving offence, you should contact our Specialist Lawyers at George Sten & Co Criminal Lawyers.
The legislation
Under section 9 of the Road Transport (Safety and Traffic Management Act 1999 (NSW), it is considered an offence to drive with a prescribed blood alcohol concentration. It is also considered an offence to drive, attempt to drive, or occupy the seat next to a learner driver who is driving a vehicle. Generally, a fully licensed driver must not have more than 0.02 g/100ML of blood alcohol concentration in their system while they drive. Firstly, a learner or provisional license holder must not have any alcohol present in his or her blood.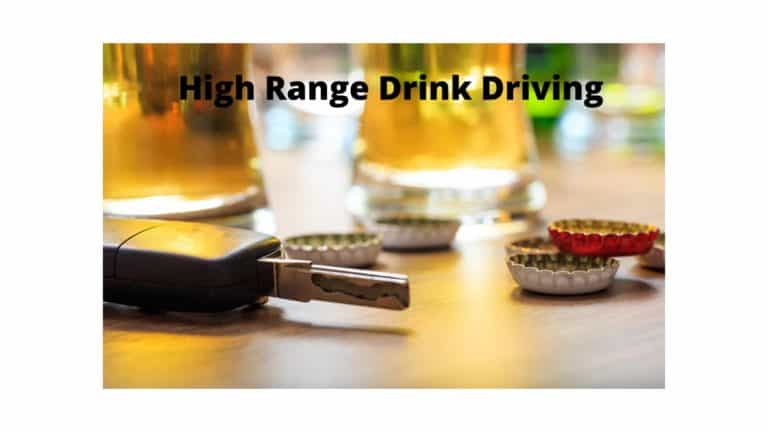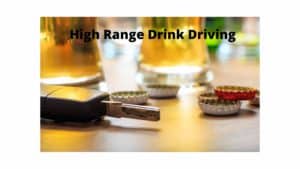 There are 4 levels of drink driving that apply in New South Wales. Special range PCA is a special category with blood alcohol concentration of between 0.02 and 0.049g/ 100mL. PCA refers to the prescribed concentration of alcohol. The next level is known as low PCA and is characterized by a blood alcohol concentration of between 0.05 and 0.079 g/ 100mL. Mid range PCA includes blood alcohol concentration between 0.08 and 0.149 g/ 100mL. High range PCA applies to drivers with a blood alcohol concentration of over 0.15g/ 100mL.
What is considered 'High Range?'
High range refers to the amount of alcohol in your system. If you have drive a vehicle with 0.15% or more alcohol in your system at the time and you are caught by the police, you will be charged with a high range drink driving offence.
Penalties- you can go to jail
The maximum fine for a first offence of high range drink driving is $3,300. There is an automatic disqualification period of 3 years with a minimum disqualification period for 12 months per offence. There is no imprisonment for first offences, however, if you commit a second high range drinking offence within 5 years, the automatic disqualification period rises to 5 years and the minimum disqualification period lasts for 2 years. Furthermore, you are liable for imprisonment of up to 18 months. The maximum fine also increases to $5,500.
High Range Drink Driving is a serious criminal offence because you are putting yourself and others' lives in danger. The more alcohol that is in your system at the time, the more serious the offence committed is considered. You will have this offence recorded on your criminal conviction.
Criminal conviction
A criminal conviction is an entry on your criminal record which may be disclosed to others in certain circumstances. For example, if you apply for a job and they request a criminal and background check, they may find out about your offence. This can severely injure your prospects of getting a job.
If it your first offence, there is a chance that you can avoid this criminal conviction. However, you should keep in mind that this is rare in cases of high range drink driving. Under section 10 of the Crimes (Sentencing Procedure Act) 1999 (NSW), the court can dismiss the charge without a conviction.
The habitual offender's scheme
A person who is convicted of three or more major driving offences (including PCA offences) within a 5 year time period is considered a habitual traffic offender. Habitual traffic offenders are automatically disqualified from driving for 5 years. The court has the power to increase this period to a life ban on driving or to decrease it to a minimum of 3 years.
Scenario example
Mr Sanders was driving home from a night out. He had several drinks and was quite intoxicated but still decided to drive as he was not in the right head space. He was pulled over for a random breath test and found to have a blood alcohol concentration of 0.209g/ 100mL. This comes under the category of high range drink driving. After the initial random breath test, Mr Sanders was taken to the hospital for further testing. He submitted to a blood test and the level has dropped slightly to 0.201g /100mL. This amount is still considered high range. Subsequently, Mr Sanders was arrested and taken to the local police station. The next morning, he was released on bail. Before leaving the station, he was handed a fine of $3,300 and told that his driver license would be suspended.
He headed straight to the local law firm to find out more about the charge he was facing. After finding out that his charge could lead to a term of imprisonment, Mr Sanders retained the solicitor to help him defend himself in court.
When the time came to go to court, the solicitor was able to come back to Mr Sanders with a 12 month driver's license disqualification and no other penalty.
Have you been charged with a high range drink driving offence?
If you have been caught with a high range amount of alcohol in your system while driving, you should contact one of our solicitors at George Sten & Co Lawyers as soon as you can. All too often, offenders take traffic offences too lightly and do not retain a solicitor however you should bear in mind that if it is your second offence of this kind or it occurred in aggravated circumstance, you will be facing a custodial sentence. For this reason, it is imperative that you contact one of our Criminal Law Specialists who can work with you to avoid time in prison. Our solicitors are familiar with the local Court process and can present your case in a way, which will lead to the most beneficial outcome. Call our Sydney Criminal Lawyers today 9261 8640